Veteran Michael Blecker hopes that California can keep up with the demand of new veterans as the wars in the middle east continue. As one of the most populous states in the country, California has provided a large number of its citizens as soldiers in recent conflicts. Unfortunately the state is ill-equiped to handle the needs of returning soldiers, many of which are from California's national guard units. With over 45% of those have have served in combat zones being national guard reservists, those individuals who enlisted under the pretense of being a "weekend warrior" are returning to a state embroiled in economic trouble, with large shifts in housing prices and a troubled job market.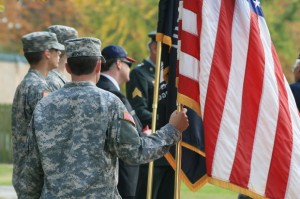 Blecker believes that the state can provide more assistance than it does, noting that the "Department of Alcohol and Substance Abuse [should be] doing more; the Department of Mental Health [should be] doing more; employment training [should be] doing more – recognizing that this is a significant population in the State of California, which needs attention." Michael knows that there is a growing public support for American veterans, and thinks that Governor Jerry Brown may look to gain political support by recognizing the growing needs of this demographic. "[Jerry brown knew that] during the Vietnam War, that veterans had little support – the public couldn't separate their feelings for the war from the warriors, so you couldn't score many political points from helping Vietnam veterans. But suddenly, I think he's becoming aware that people care about these returning veterans, and he's trying to do more things."
Regardless of the response from state officials, Blecker realizes that in the end public charitable organizations, such as the Veterans Affordable Housing Program by Affordable Community Living is the best bet of California veterans, stating we need to "be more engaging with vets, because […] they [have] issues with whether they were getting claims with the VA, […] issues like mental health and housing […] we [need to] put together a combat to community. Many of them have very low rates of getting services from the VA, or getting compensated from the VA."
---
Helping Veterans with the Veterans Affordable Housing Program…
Affordable Community Living is a qualified 501(c)(3) charitable organization providing low and moderate income families with quality, affordable housing since 1997 and now offers help to veterans and their families through it's Veterans Assistance Program.
Learn more about our mission and how we aim to help America's heroes.