Returning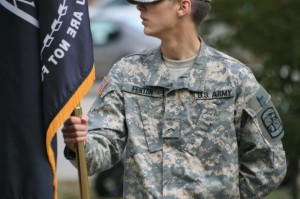 and retiring veterans of the Army and other service branches in the U.S. military are likening the job market to combat situations, and for good reason. Recent reports from the U.S. Bureau of Labor Statistics show a slight dip in the over-all unemployment levels of U.S. veterans to 21.8 million, or 8.3 percent, from an earlier reported level of 13 percent. This number fails to account for a higher portion of Vietnam-era veterans retiring than in previous years and changing the overall statistical database for working vets. Veterans who served since the 9/11 attacks and resulting conflicts in the middle-east still remain at 12.01 percent, a decline from 14.7 percent in 2011, but still not progress enough. Young male veterans in the 18 to 24 age bracket have a sky-high jobless rate of 29.1 percent, and 22 percent of female veterans from the middle-eastern conflicts are unemployed.
Veterans enter the job market with technical skills and training that often exceeds college graduates of similar professions, but have difficulty transitioning into the private sector. Recruiting firms such as Orion International have found success in placing veterans at companies such as Intel, Conocophilips, and Samsung, but have needed help being placed in these jobs. President of Orion, Mike Starich, believes that while veterans have great skill sets, companies simply do not know how military training transitions into their field. Mike Beal of the Milwaukee-based nonprofit Center for Veterans Issues says that terminology learned in the military needs to be reworked for vets trying to find jobs, stating that "we use a lot of acronyms in the military and vets need to know how to translate that into civilian speak." Lynda Horne from the same institution notes that many vets need education and training on how to perform in job interviews.
Some big businesses such as General Motors do not find any transitional problems, and as one of the largest employers of vets, views them as an under-valued resource.
While it is nothing short of a tragedy that American veterans have to view something as basic as getting a job after the military as an ongoing battle, The Veterans Affordable Housing Program was created to help vets in times of need, and is dedicated to helping low and moderate income, disabled, or transitioning veterans and their families find affordable housing in California, Arizona, Nevada, and Washington. We can help you by providing rent relief, down payment assistance, reduced-cost housing, subsidies, and more. Please contact us if you, or somebody you know, is a veteran and is in need of housing assistance.
---
Helping Veterans with the Veterans Affordable Housing Program…
Affordable Community Living is a qualified 501(c)(3) charitable organization providing low and moderate income families with quality, affordable housing since 1997 and now offers help to veterans and their families through it's Veterans Assistance Program.
Learn more about our mission and how we aim to help America's heroes.