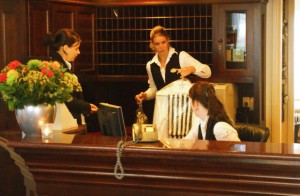 While the nation struggles with an 8.6% unemployment rate, veterans of the War on Terror and other U.S. engagements are suffering with over 13%. To help combat the over 850,000 jobless veterans in the country, President Obama signed into law the Vow to Hire Heroes Act. This act attempts to stimulate the hiring of unemployed veterans by providing businesses tax credits ranging from $2400 to $9600 for each veteran that is hired, depending on factors such as if they veteran was wounded in war or how long they have been unemployed.
As states prepare for the influx of veterans from Iraq, many veterans remain cautiously apprehensive about their return from years of war. The economy is struggling and unemployment is high, and military personnel often find trouble translating their years of experience into marketable job skills. A traditional job for military personnel has been police and law enforcement, but these departments have been at the chopping block of state and local budgets.
The Veterans Affordable Housing Program is dedicated to helping low and moderate income, disabled, or transitioning veterans and their families find affordable housing in California, Arizona, Nevada, and Washington. We can help you by providing rent relief, down payment assistance, reduced-cost housing and more. Please contact us if you, or somebody you know is a veteran and is in need of housing assistance.
---
Helping Veterans with the Veterans Affordable Housing Program…
Affordable Community Living is a qualified 501(c)(3) charitable organization providing low and moderate income families with quality, affordable housing since 1997 and now offers help to veterans and their families through it's Veterans Assistance Program.
Learn more about our mission and how we aim to help America's heroes.