California – Central
Santiago Apple Valley Estates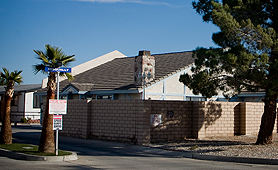 Centrally located in Apple Valley, California this quaint community is within an hour from the heart of Los Angeles and the resort community of Big Bear Mountain. Local schools, restaurants, and medical services are within walking distance and for those with transportation, theatres, hospitals and a myriad of churches are a quick 5 minute drive.
22020 Nisqually Road
Apple Valley, CA 92308
Phone: (760) 240-1311
Fax: (760) 247-9337
Santiago Creek Mobilehome Park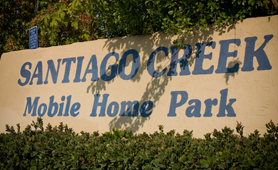 Located roughly between Los Angeles and Fresno, Santiago Creek is in Bakersfield, CA, a large city at the southern end of the San Joaquin Valley in Kern County. The Santiago Creek community is known for its relaxed atmosphere and spacious grassy areas including two walking paths.
3000 S. Chester Ave.
Bakersfield, CA 93304
Phone: (661) 833-2679
Fax: (661) 833-9468
Santiago Desert View Estates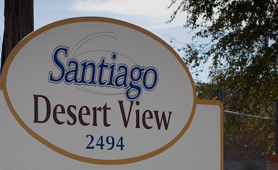 Located on Historic Route 66, Santiago Desert View Estates is midway between Los Angeles and Las Vegas in Barstow, CA. With lovely landscaping and open grassy areas, residents enjoy a quiet community surrounded by friendly neighbors, with the resources of major metropolitan areas including parks, restaurants, medical services and museums.
2494 W. Main Street
Barstow, CA 92311
Phone: (760) 256-8007
Fax: (760) 256-9450
Santiago Estates of Mojave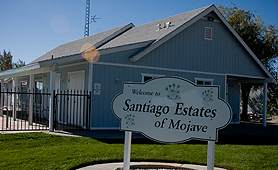 In a city with gorgeous vistas and rich history, Santiago Estates of Mojave is a quiet community that feels like home. Just 20-30 minutes away from the larger cities of Tehachapi, Lancaster and Palmdale and 3 1/2 hours from Las Vegas, Mojave's convenient freeway access makes it the perfect stop for travelers.
15540 Allie Street
Mojave, CA 93501
Phone: (661) 824-4051
Fax: (661) 824-4053
Santiago Ridgecrest Estates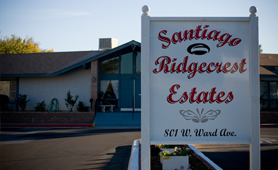 Ridgecrest is situated in the Indian Wells Valley between the high country of the Sierra Nevada range and the deep desert of Death Valley. Within an hour's drive–through some of the West's most beautiful country–are great sailing, skiing, hiking, fishing, hunting, and every other outdoor pastime.
801 W. Ward Ave.
Ridgecrest, CA 93555
Phone: (760) 446-2122
Fax: (760) 446-0928
The Willows of Santiago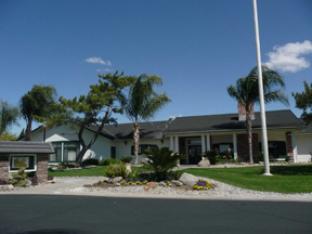 If you are looking for upscale affordable living, you have come to the right place. The Willows of Santiago has many resort style amenities for our owners. A true country club atmosphere. The Willows is located in Fresno and is family and pet friendly. Come visit our park and you will want to make it your home.
2575 S. Willow Ave.
Fresno, CA 93725
Phone: (559) 233-1390
Fax: (559) 233-2374