Facing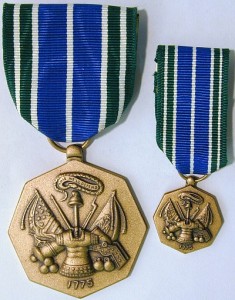 a troubled economy, hostile job market, and lack of government aid, Bill Shephard of Woodbury N.J. was forced to list his Army Achievement Medal on eBay, an internet auction site. After returning from Iraq in 2009, Bill had trouble finding a job and went back to school for a network management certificate. Despite his additional efforts, he still could not find even an entry level job in the field. Out of "desperation and frustration" Mr. Shephard listed his medal on eBay as a "last resort."
The internet and local community has responded to the veteran in need, with some offering clothing and aid to the Shephard family of five. As of Friday the auction had topped $3,000. "It was beyond anything I would have ever expected," Shephard reports. The veteran acknowledged that the medal its self caries little value, but hoped that the public would recognize a veteran in need and lend aid.
Despite the outcome, Shephard remains solemn, recognizing that his situation is one among many, and that many other veterans who will not get the publicity they need continue to fight joblessness and homelessness.
If you are a veteran and facing desperate times, The Veterans Affordable Housing Program is ready to help you find a home now, and we want you to display your medals, not be forced to sell them. While many veterans are facing delays with the Department of Veterans Affairs or other government programs and may feel abandoned, they are not alone. The Veterans Affordable Housing Program was created to help vets in times of need, and is dedicated to helping low and moderate income, disabled, or transitioning veterans and their families find affordable housing in California, Arizona, Nevada, and Washington. We can help you by providing rent relief, down payment assistance, reduced-cost housing, subsidies, and more. Please contact us if you, or somebody you know, is a veteran and is in need of housing assistance.
---
Helping Veterans with the Veterans Affordable Housing Program…
Affordable Community Living is a qualified 501(c)(3) charitable organization providing low and moderate income families with quality, affordable housing since 1997 and now offers help to veterans and their families through it's Veterans Assistance Program.
Learn more about our mission and how we aim to help America's heroes.