"Sometimes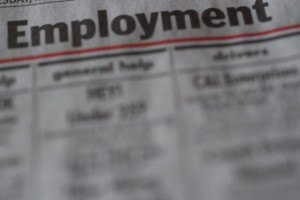 we hide the fact that we're veterans," says Matthew Colvin, an Air Force vet with two tours in Afghanistan. "I don't think that's the way it should be. […] We've got more life experience than the kid coming out of college or even the guy who's maybe equally qualified on paper." Tens of thousands of Iraq and Afghanistan vets returning from the continued decreases in troop volumes from the American middle eastern wars after 9/11 are facing not just a job market that they liken to a battlefield, but one of increasing apathy towards American heroes.
Economic downshifts are blamed by most business experts, yet corporate profits continue to increase and popular news outlets are viewing downward trends in unemployment. Military experts think it is still a problem of prejudice against servicemen and women, with rear admiral (RET.) T. McCreary, president of Military.com, stating that "employers immediately think the trigger part of the military. They don't know or haven't had exposure to or forget there are a ton of jobs out there that have almost directly transferable skills — heavy equipment operators, machinists, welders, doctors, nurses, medical technicians, pilots, financial managers."
Eric Smith has faced this problem firsthand. As a former corpsman, he estimated the government spent more than a million dollars training him to be a team-leading combat medic. Yet when he returned from duty, he couldn't find a job. Employers didn't understand his military job experience, and they didn't want to be bothered to learn. Rather, employers commonly feed their resumes into automated keyword search programs, which exclude military job descriptions and certifications. While Smith had experience and training that exceeded common civilian programs, he lacked the proper piece of paper. He lived desperately on part-time jobs such as bar tending, day laboring, and allowing medical experimentation while working on his EMT certification, and due to his diligence he now faces prospective employment.
In the past year, President Obama signed into law the VOW act to provide tax credits to businesses that hire vets, giving them lucrative bonuses for hiring vets that have been out of work. Some unscrupulous businesses used it as a quick cash-in, and pushed vets into menial jobs, and in some cases replaced them with lower waged workers. The measure in its self has been a large success however, despite the actions of shady businesses, and the unemployment rate has decreased some for vets.
Matthew Pizzo has not been so lucky however. Despite using his G.I. Bill to receive an education and degree, his military experience creates a void on his resume. Pizzo even believes that his job search may have benefited from not joining the military and risking his life to protect American freedoms, stating that "it would be rare to find five people on a base who know five people on Wall Street." One prospective employer even believed that at 29 he was "a little old" to start working, ignoring his years of service as valid job experience.
Veterans facing trouble in the returning job market may feel alone, but The Veterans Affordable Housing Program wants to help you have a home. The Veterans Affordable Housing Program was created to help vets in times of need, and is dedicated to helping low and moderate income, disabled, or transitioning veterans and their families find affordable housing in California, Arizona, Nevada, and Washington. We can help you by providing rent relief, down payment assistance, reduced-cost housing, subsidies, and more. Please contact us if you, or somebody you know, is a veteran and is in need of housing assistance.
---
Helping Veterans with the Veterans Affordable Housing Program…
Affordable Community Living is a qualified 501(c)(3) charitable organization providing low and moderate income families with quality, affordable housing since 1997 and now offers help to veterans and their families through it's Veterans Assistance Program.
Learn more about our mission and how we aim to help America's heroes.